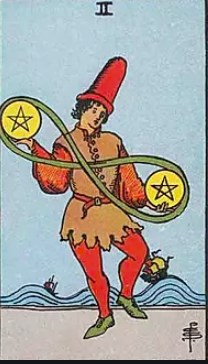 Card of the Day
18 of June 2020
Two of Pentacles
This card shows a young man with a tall red hat, smoothly juggling 2 pentacles within the infinity sign. There is a blue sky, a rolling sea and what appears to be two ships.  The young man is standing firmly on the ground with leg up – almost appearing to be in the act of juggling.
This card is a card is all about balance and flexibility. The world is forever changing around us, and this card reminds us of that.
Perhaps you feel you have a lot going on at the moment or are juggling funds. This won't be forever.  Take a look at what it is that you need to do, and keep things moving, but do in such a way that it is fun and balanced.
Be sure to balance the important things in your life with the things that you enjoy. Remember to do give yourself time to do the things that bring you joy.
If you feel you are juggling life at the moment, have a look at what is happening in your life, and where you want your energy to flow to and remove those, or give less energy to the things in your life that are not so important.