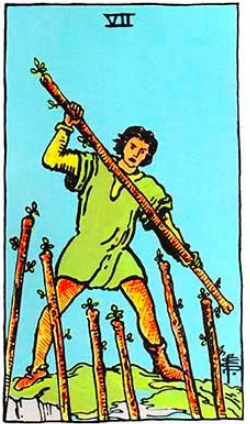 Card of the Day
19th of June 2020
Seven of Wands
Sometimes we feel that we have to stand up for what we believe to be right.
You may have to face opposition, but if you truly believe in something, and you feel that it is worth fighting for then stand up you must. It may be a cause, a belief or a stance that you feel you should take.
This card shows up to tell us that we do have the courage and determination to stand up for what we believe. You may have been beaten down in the past, overcome by fear of those who have different thoughts or views, but now you are ready to make a stance.
You are discovering strength that you did not know that you had. You are now willing to stand against the opposition and because of your belief and pure will power – you will make your voice heard.
Today stand up for yourself or what it is that you beleive in. Do it assertively, not with anger or agression as coming from a of agression will take away from the point or stance you want to take.
#dailycard #tarot #eightofcups #cardoftheday #intuitivetarot #tarotreader #celtictarotreader #scottishtarotreader #intuitivereader #intuitivetarotreader #scottishtarot #dailyreading #dailytarotcardreader #magicwizardry