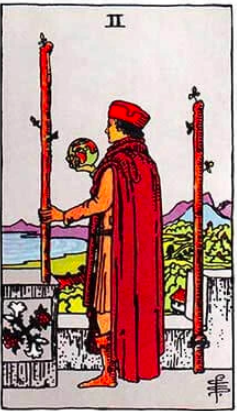 Card of the Day
21  of June 2020
Two of Wands
This card shows a man standing on what could be the terrace of a castle overlooking the land and the sea. He holds what looks like a globe in hands.
We have had a run of wands this week in our daily cards and with wands representing the element of fire and summer solstice upon us – they are representing action, inspiration, creativity and fanning the flames of what drives our passion.  It is a time of growth and expansion.
This card is saying to me that it is time to take stock of what you have and what is it that you want to grow and put energy into.
If you are starting something new, or have decided to be doing things in a different way, you perhaps have an expectation of how that should go. However, the path to success can be rocky and bendy.  When things or plans do not go as planned, do not give up, simply be aware that sometimes, we need to alter the course that we thought we were on, in order to make things happen.
Have a look at your goals and aims today, and ask you're is the path you are on realistic, and if not what do you need to change to make it so. When you have your achievable goal in hand – do something today – no matter how big or small – to bring your closer to your goal.
Have a beautiful day
#cardoftheday #dailycardpull #dailytarotcard #tarot #tarotcardreader #intuitivereading #intuitivereader #twoofpentacles #twoofpentaclesdailycard #pentacales