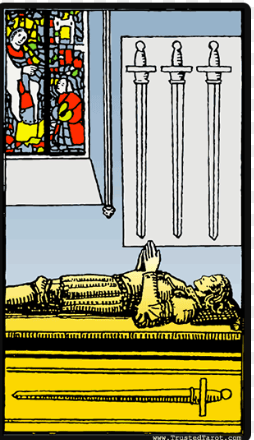 Card of the day
23rd June 2020
Four of Swords
We are without a doubt coming of out of one of the strangest times in any our lives times. Some will have found it traumatic, worrying and difficult time. Others may have found it not so difficult, but still challenging.  So it seems a good place and day for this card to show up.
I read this as a card of quiet contemplation after challenging times. What is your next step? Have you learned things about yourself these past few months? Have your priorities changed and now your feel that decision about your future life need to be made
If you have decisions to make, take time to rest, ponder and meditate about what you should do.
It is wise to take time to think wisely and plan what it is that you want to do next.
Today, bring inner peace to yourself by allowing a day of rest. Or if this is not possible, try meditating or taking time to listen and acknowledge your breath for a few minutes in your day. Allow this to bring about calm into your day
Have a beautiful day.