Tarot Reading with Veronica Conway Morris 
Intuitive Tarot Readings
Helping you to see beyond the veil
Tools for self-empowerment and personal development.
I am a intuitive Tarot Card reader and coach.
Helping you see beyond the veil
I can help you tap into your sub-conscious to help you to make the best decisions to move forward in your life. No-one knows you and your life  better then you.
I will not be telling your your fortune or predicting your future, I will read the cards and help you see the obstacles in your life and help you overcome them.  
Allow me to help bring you
Clarity
Transformation, and
Insight
If you have any questions about my practice, please do contact me. 
Magic Wizardry Studios 
If you are in Glastonbury you can book in a time to come and have a private reading in our studios just off the High Street.  Call me on 07462535533 to make a time.
Glastonbury Indoor Market, Assembly rooms, every Tuesday 10 – 4 pm – Come in see me or Mario there for a reading.  Come in for a taster 10 minute reading or come for a 30 minute reading.
One to one readings – by prior appointment at our Glastonbury Magic Wizardry Studios.
£30 for a an approximate 30 minute reading
This will take place in our studios just off the High Street in Glastonbury.  This will be a 6 – 10 card reading working with your question or area that you want ask the cards about.
£45 for an hour session.
Happening at our studios in Glastonbury, we will use the Celtic Cross to go deeper in your situation or area that you want to shine a light on.
Skype/online Reading
If distance is an issue – I can offer the same services via Skype or Whats up for a real time reading that suits you.
 

I will give you an in depth reading for your question or theme and return you an audio file of your reading with a photo of your cards.

 

A question, or area of your life will allow me to give you more insightful reading.
Live Reading
via WhatsApp/phone or in our Glastonbury studio
An in-depth reading for you. 
This reading best works with a question or a theme.
1 hour session
A deeper reading into your question or area that you want to shine a light on.

Using the traditional 10 card Celtic Cross spread, we can use this time to delve deeper into what the cards want to tell you.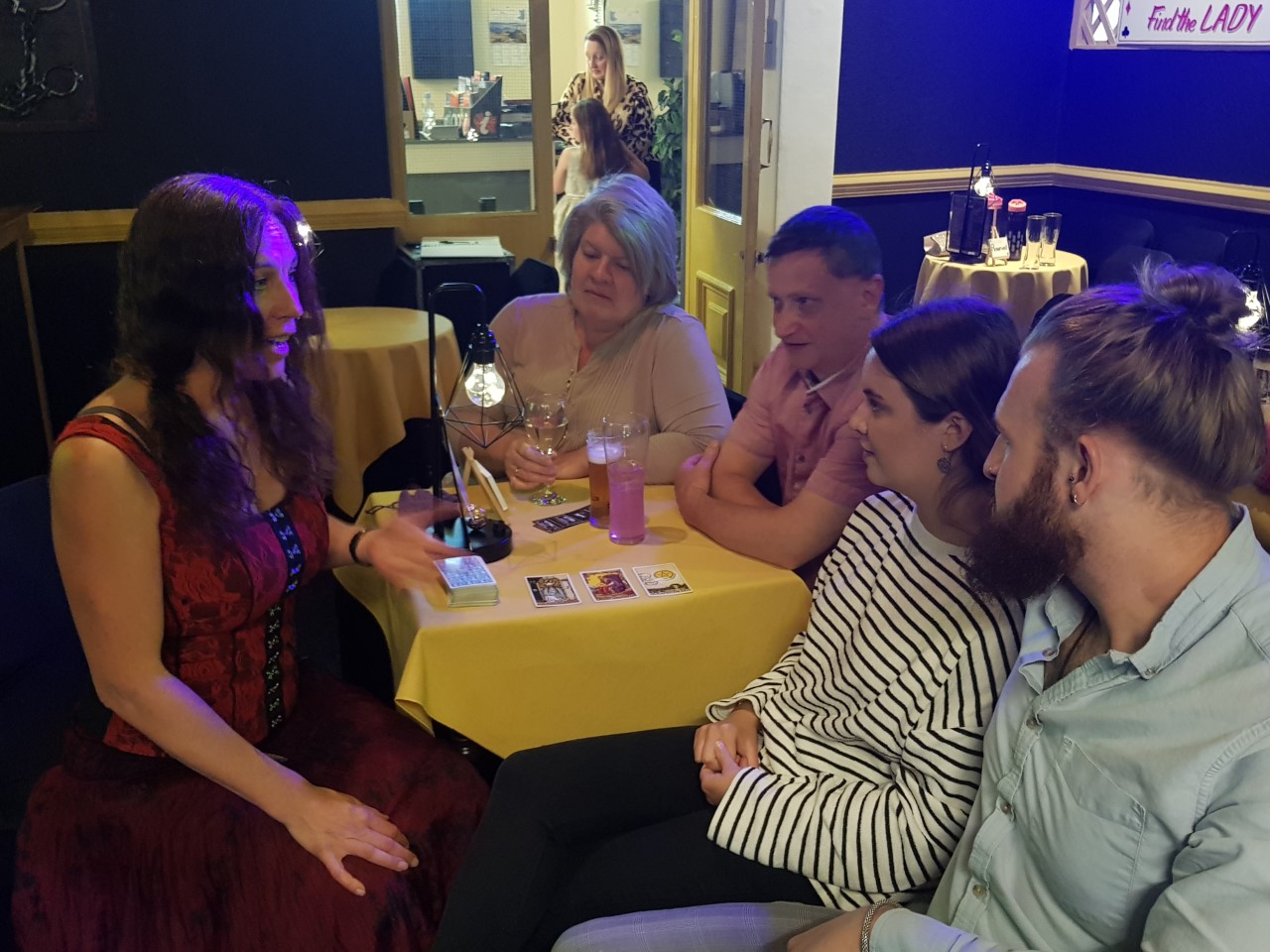 Looking for a Tarot Card Reader for your next event or gathering?
I also travel to people's houses, hen party, gathering and events.  I can mix and mingle with your guests at gatherings or invite me to a girls night in.  For an evening of paranormal entertainment – invite Mario Morris with his Spirit Wizard Show  and create of magic and wonder.  
Contact me for further details.
I found Veronica's reading to be accurate of my situation, whilst allowing me to look at my situation from a helpful and positive perspecitve.  Her questions and reading made me think about what I need to to do in order to move forward.   Thank you and I look forward to receiving another reading soon 
Dear Veronica,
Thank you so much for your beautiful and very helpful reading.  The first thing that I became aware of was a crystal like clarity of your energy.  It feels like there is absolutely no interference in what you are seeing in the cards and I trust your words which resonate powerfully with me…..  this is an authentic divination which results from your direct connection with the Divine…  There is no personal agenda or ego getting in the way and causing interference with this connection.  WOW!!! 
I feel a very deep gratitude for this reading.  You have delivered the message with care and with love.  Thank you so very much!  It has really helped to give me some well timed clarity.
Love and thanks,
Very good reading, and prompt delivery
This has been a very enlightening reading, delivered with compassion and clarity. Veronica has a deep insight and I am left with the feeling that she has a strong connection with her cards. It is a connection which goes beyond this material plain and enables her to glean valuable knowledge and information which resonates with me on many levels, and has been passed on to me exactly at the time that I need to receive it. As with everything in life, the timing is perfect. I am filled with gratitude. Thank you